If you are a steak connoisseur, you know how important it is to find a juicy, flavorful steak that is also very tender. San Diego is home to Greystone Steakhouse, a restaurant known for its high quality steaks and has a reputation as one of the best steakhouse restaurants in San Diego. The restaurant prepares the best prime steak in the entire state of California. You need to stop by Greystone to experience its chic yet classic dining experience.
If you are looking to eat a steak at home, however, there are many different ways that it can be prepared. Whether you are grilling for a barbeque or just cooking a simple dinner, you can spice up your steak a few different ways. Here are five creative ways to prepare your next steak: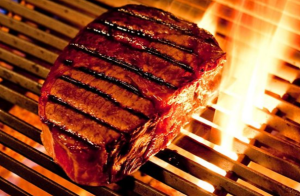 1.Rub it- Creating a rub can be fun and easy because you are able to look through your cabinet to combine all sorts of spices. A steak rub can have a citrus or a strong herb flavor depending upon what ingredients you mix together. The directions for a rub are simple. You just need to combine the ingredients together, rub the mixture all over your choice of steak, let it sit in your fridge for about two hours to allow the flavors to soak into the meat, and then cook it on the grill.
This Tex-Mex style rub will sure spice up your steak:
1 cup ancho chile powder
3 tbsp dried oregano
3 tbsp dried coriander
1 tbsp salt
⅓ cup smoked paprika
3 tbsp dried mustard
1 tbsp cumin
1 tbsp black pepper
zest of 2 limes
2. Marinate it- Marinades help tenderize the meat while adding lots of flavor. You can use a pre-made marinade or create a custom flavor of your choice depending on what ingredients you choose to combine. The acids in the marinade soften the meat while still allowing it to keep a juicy flavor. To begin the marinating process, sprinkle salt and pepper over both sides, cover the steak completely with everything except the lemons, place the lemon slices on top and bottom of the steak. Cover the steak and place it in the refrigerator for a day. When you are ready to grill the steak, brush off the excess seasonings and cook to your liking.
This lemon and garlic marinade will amaze you:
A pinch of salt and pepper
2 tbsp extra virgin olive oil
6 minced garlic cloves
4 chopped scallions
4 smashed bay leaves
2 thinly sliced lemons
vegetable oil for brushing
3. Top it- Steak toppings can add a variety of flavors and textures. Toppings are an easy way to make any steak more delicious. If you want to be simple, you can top your steak with sautéed mushrooms and onions. If you are looking for something spicier, when your steak is just about finished cooking, cover the steak with slices of monterey jack cheese and roasted green chili strips.
4. Fry it- Who doesn't love some warm comfort food? Chicken fried steak is an iconic Southern dish that is actually very simple to prepare. To complete the dish, be sure to serve it with mashed potatoes and gravy and a side of green beans.
5. Add it- If you have leftover steak, there are so many ways you can prepare it for lunch the next day. For a healthy meal, add the sliced steak to a simple salad with balsamic dressing. For a more filling option, you can make a steak sandwich by placing the steak on bread and adding cheese, lettuce, tomatoes, and mayo. There are so many different ways to eat your steak- just be creative and experiment!