Check this guy out; Stephen Dent on All Music. I like all of this guy's music. First I thought he was a rapper but when I looked a little deeper I found out that he is in fact a sound engineer…which is very different, of course. What's cool about this guy is that he has worked with P Diddy, Notorious, Shyne, Lil Kim…the list goes on. He also runs Daddy's House Recording Studio for Diddy. This guy is a major player in the music industry, I just have to meet him. Also, check out this man's social media profiles. He was quiet for awhile but he must be hearing all of the fans out there and he's starting to make some moves again.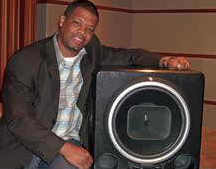 Have you seen Stephen Dent's list of work? I was checking out another site called Discogs and man was I impressed! Why haven't more people heard about this guy? If you're interested in seeing the complete list of artists he has worked for, here it is: LL Cool J, Black Rob, Ol Dirty Bastard (hey baby you got my money…), Mase, the Lox, Kelly Price, Carl Thomas, Junior Mafia, Cheri Dennis, Shyne, 8ball and MJG, Aretha Franklin, 112, Kid Capri, Lil Kim, Blaque Ivory, Noreaga, Lady May, Mary J Blige, Blu Cantrell, and Nelly. Apologies if I missed anything.
Did I tell you guys how much I really want to meet this guy? And that's for 2 main reasons. 1 – he knows Diddy pretty well, and I love Diddy, Puff Daddy, Sean, whatever you call him. Take a look at Stephen Dent's Twitter and all of the pictures of him and Diddy for the proof. My thought is that if I can meet Stephen maybe I can meet Diddy too. And reason # 2 – He is a skilled sound engineer and that's what I want to do. Work with the stars, get into the music industry, you know – do it big. The only thing missing is that I need some help, some advice from the heavy hitters in the industry. I just need my chance and I know I can blow up.
Now let me ask you. What do you guys think? Is this guy the real deal? Could meeting this Stephen Dent guy get me into the music industry? I would like to now everyone's thoughts on the matter or if I'm just wasting my time. Thanks for reading!